Last Updated:
Coffee is an essential part of many people's daily routines, with its rich aroma and energising effects. Among the vast variety of coffee beans available, Arabica beans are often considered the gold standard due to their superior taste and quality. These beans are prized for their smooth, mild flavour, often with notes of chocolate, caramel, or fruit, setting them apart from the more robust and bitter taste of Robusta beans.
Arabica coffee beans are cultivated predominantly in high altitude regions with cool climates and rich soil, which allow the beans to develop their unique characteristics. To enjoy the best-tasting coffee, it's crucial to choose high-quality, freshly roasted Arabica beans from reputable sources.
When it comes to selecting the best Arabica coffee beans for your personal taste, several factors are worth considering. Pay attention to the origin of the beans, as different growing regions produce distinct flavours and qualities. Additionally, consider the roast level, as it can significantly affect the taste – lighter roasts typically have a brighter acidity, while darker roasts tend to be bolder and richer. Finally, make sure you're buying whole beans rather than pre-ground coffee to ensure maximum freshness and flavour.
Keeping these critical factors in mind while choosing your Arabica coffee beans will ensure you have the most delicious and satisfying cup. Read on to explore our top picks of the best Arabica coffee beans available.
Best Arabica Coffee Beans
Discover our top picks of the finest Arabica coffee beans that will elevate your coffee experience. From fruity notes to smooth textures, these beans cater to every palate.
Volcanica Coffee
As you explore the world of Arabica coffee beans, you won't want to miss Volcanica Coffee. This brand offers premium, gourmet beans sourced from volcanic regions around the world. The high altitude and mineral-rich volcanic soil result in exceptional flavours and aromas for your cup of coffee.
You'll find that Volcanica Coffee beans are grown at elevations above 1,200 metres. This altitude provides cooler temperatures and more rainfall, allowing the coffee cherries to mature slowly, thus developing complex flavours. The mineral-rich soil also contributes to the unique taste and quality of these beans.
Some popular choices from Volcanica Coffee include:
Ethiopian Yirgacheffe: Known for its bright acidity, Yirgacheffe coffee boasts floral, fruity, and wine-like notes. It has a distinct aroma of lavender and a smooth body, creating a well-balanced cup.
Costa Rica Peaberry: This rare variety of coffee bean has a concentrated flavour profile due to the single, round peaberry found inside the coffee cherry. It boasts bright, citrusy notes with a hint of chocolate and nutty undertones.
Sumatra Mandheling: Originating from Indonesia, this bold, earthy coffee offers low acidity and a syrupy body. Its flavour profile features notes of dark chocolate and dried fruit, creating a satisfying coffee experience.
Take note that all Volcanica Coffee beans are fair trade and ethically sourced, ensuring that the farmers and environment are properly taken care of. They also provide a freshness guarantee with each order, as the beans are roasted only upon receiving your order, ensuring optimal freshness and flavour.
When brewing your Volcanica Coffee, consider using a pour-over method or a French press for the best extraction of flavours. Fine-tune your brewing process by adjusting grind size, water temperature, and brewing time to achieve the perfect cup suited to your taste preferences.
Give Volcanica Coffee a try and discover how quality beans from volcanic regions can elevate your coffee experience to new heights.
Koa Coffee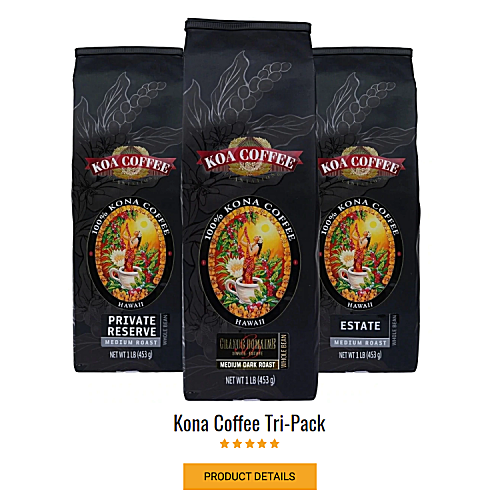 If you're searching for a truly exceptional coffee experience, look no further than Koa Coffee. This renowned brand specializes in gourmet coffee beans cultivated in the volcanic soil of the Big Island of Hawaii. With its unique terroir and meticulous attention to detail, Koa Coffee delivers a cup of java that is sure to impress even the most discerning coffee enthusiasts.
At Koa Coffee, the beans are grown on the fertile slopes of Mauna Loa, one of the world's largest active volcanoes. The volcanic soil, combined with the ideal climate conditions of the Kona region, contributes to the distinct flavor and quality of the coffee. The rich mineral composition of the soil imparts a smoothness and complexity to the beans, resulting in a truly exceptional cup of coffee.
Koa Coffee offers a variety of outstanding options to satisfy every palate:
Private Reserve: This flagship blend features 100% Kona coffee beans, carefully handpicked and meticulously roasted to bring out the unique characteristics of the region. It boasts a velvety texture, with notes of chocolate, caramel, and tropical fruit, providing a rich and indulgent experience.

Estate: The Estate blend showcases the best beans from the Koa Coffee farm, delivering a well-balanced cup with a smooth body and delightful flavors of brown sugar, macadamia nuts, and hints of citrus. It's a classic Kona coffee that captures the essence of the region.

Peaberry: Koa Coffee's Peaberry beans are highly sought after for their rarity and intense flavor. Peaberry beans are natural mutations that occur when only one bean develops inside the coffee cherry, resulting in a more concentrated taste. This unique offering showcases the complex flavors of Kona coffee, with notes of bright citrus, honey, and roasted nuts.
Koa Coffee is committed to sustainability and ethical practices. The company takes pride in supporting local farmers and ensuring fair wages. Moreover, they employ environmentally friendly farming techniques to preserve the fragile ecosystem of the Kona region.
To brew your Koa Coffee to perfection, consider using a manual brewing method like pour-over or a traditional French press. Experiment with grind size, water temperature, and brewing time to customize your cup to your liking. Koa Coffee's beans are freshly roasted just before shipping, ensuring that you receive the highest quality and freshness in every bag.
Hills Bros Dark Satin Whole Bean Coffee is a great choice if you're looking for a full-bodied dark blend coffee with bold flavour and a smooth finish.
Rich blend of Arabica coffee beans
Dark roast for strong, bold flavour and smooth finish
Kosher and gluten-free
Packaging may be of poor quality
May need to adjust grind for optimal flavour
Not the best option for fans of lighter roasts
Hills Bros Dark Satin Whole Bean Coffee is crafted using Arabica coffee beans that have been hand-selected from the finest growing regions around the world. Since 1878, the brand has been committed to providing high-quality coffee without compromise, making it a popular choice among coffee enthusiasts.
The dark roast of this coffee blend brings out a deep, vibrant flavour that is both bold and satisfying. While it may be a bit stronger than a medium roast, it still offers a smooth finish that many coffee drinkers enjoy. Additionally, this coffee is both kosher and gluten-free, making it a suitable option for a wide range of dietary needs.
One of the downsides of this coffee is that the packaging may be of poor quality. Some customers have reported issues with the bag's durability after filling their bean hopper. Additionally, you may need to adjust your grind to find the perfect flavour and strength for your taste preferences. Finally, if you prefer a lighter roast, this might not be the best choice for you, as Hills Bros Dark Satin Whole Bean Coffee leans towards a darker, bolder taste profile.
In conclusion, Hills Bros Dark Satin Whole Bean Coffee offers a strong, bold flavour and smooth finish that many coffee lovers will appreciate. With its commitment to quality and hand-selected Arabica beans, it's a great option for those looking for a full-bodied dark blend. However, be prepared for some potential packaging issues and the need to adjust your grind to achieve the perfect cup of coffee.
Tim Hortons Whole Bean Original, Medium Roast Coffee, Made with 100% Arabica Beans, 32 Ounce Bag
Medium Roast: Our original blend coffee is expertly roasted, delivering a perfectly balanced flavor with a smooth finish. Our signature blend has not changed in over 50 years and only three lucky…
Whole Bean Coffee: Grind your coffee at home to unlock the Tims flavor you crave at its fullest potential.
Top-Quality Beans: We only use 100% Arabica beans from the most renowned regions of Central and South America that are carefully selected by our experts to consistently deliver the best blend…
A great go-to choice for those seeking a balanced, smooth, and rich cup of coffee from a reputable Canadian brand.
100% Arabica beans from renowned Central and South American regions
Medium roast, delivering a well-balanced flavour with a smooth finish
Signature recipe maintained for over 50 years
Only available in 12-ounce bags, which might not be enough for heavy coffee consumers
Some reviewers mention a slightly woody taste
Higher price than some other medium roast options
Tim Hortons Whole Bean Original Medium Roast Coffee brings a taste of Canada to every sip. Made from carefully selected 100% Arabica beans sourced from the most renowned Central and South American regions, this coffee delivers the perfect blend to release delicious flavour profiles. The medium roast is carefully balanced and smooth, providing a signature taste that has been consistent for over 50 years.
Grind these beans at home to enjoy their fullest potential. Ideal for various brewing methods, such as automatic coffee makers, French presses, pour-overs, and even cold brew coffee, there's something for everyone. Savour the rich, deep earthy flavours on their own or enhance your experience with milk or sugar, creating your preferred Double Double.
In conclusion, Tim Hortons Whole Bean Original Medium Roast Coffee offers a delightful and consistent cup of coffee. Although it may be somewhat pricey and only available in 12-ounce bags, it's worth trying if you're looking for a well-balanced and reliable medium roast coffee.
If you're seeking a mild, light roast coffee with a smooth finish, consider giving AmazonFresh Just Bright Whole Bean Coffee a try.
Light roast with a crisp, clean flavour
Comes in 3 12-ounce bags, offering good value
Sourced from 100% Arabica beans grown in Central and South America
May be too mild for dark roast enthusiasts
Requires a coffee grinder for freshly grounded beans
Subtle notes may be lost on those experienced with stronger coffees
The AmazonFresh Just Bright Whole Bean Coffee provides a light roast option for those who appreciate a crisp and clean flavour in their morning cup. Each pack includes three 12-ounce bags of whole bean coffee, ensuring you'll have ample supply for your daily caffeine fix.
These high-quality beans are sourced from Central and South America, guaranteeing a 100% Arabica coffee bean experience. Expertly roasted and immediately packed for freshness, this light roast offers a delightful blend of nutty caramel notes, which may pleasantly surprise your taste buds.
AmazonFresh Just Bright Whole Bean Coffee is roasted and packed in the U.S.A., ensuring a quality product. Moreover, they offer a satisfaction guarantee – if you aren't pleased, they'll refund your purchase within a year. Be aware that you'll need a coffee grinder to make the most of these whole beans, as freshly ground coffee delivers the best flavour.
This dark roast whole bean Arabica coffee offers bold and chocolaty flavours for a true espresso experience.
Great tasting coffee with over 100 years of history
Full-bodied finish with winey notes and rich, elegant aroma
Premium quality 100% Arabica beans
May be too strong for those who prefer a lighter roast
Some reviews mention inconsistency with roast levels
Not ideal for those who don't like chocolate or caramel notes
If you are looking for a true espresso experience with a bold and full-bodied finish, Eight O'Clock Coffee Dark Italian Espresso might be just the ticket. Roasted in Maryland, USA, this dark roast coffee has been delivering great taste for over 100 years, so you can trust their experience and mastery in coffee making.
As the name hints, this particular blend offers strong aromas and subtle flavours of chocolate and caramel, which might not be to everyone's taste, but it definitely stands out in the dark roast category. Made from 100% Arabica beans, the coffee promises premium quality and taste, while being Kosher certified.
However, it's essential to note that some customers have mentioned inconsistencies in the roast levels, which might be something to consider if you prefer a more uniform roast. Moreover, the boldness and chocolate-caramel notes might not be ideal if you are after a lighter, milder coffee experience.
Through partnerships with different coffee organisations, Eight O'Clock Coffee also shows its commitment to the environment and the coffee farming community. This ensures that supporting this brand could contribute to a more sustainable and ethical coffee industry while allowing you to enjoy a delicious cup of coffee.
Discover a smooth, balanced, and rich medium-dark roast coffee perfect for starting your day.
Organic, 100% premium Arabica beans
Wallet-friendly bulk option
Smooth and flavourful medium-dark roast
Packaging may vary
Some may find the roast too dark
Beans may lack consistency between batches
Cameron's Coffee Organic Scandinavian Blend is an excellent choice for those looking for a fairly priced, quality coffee. This medium-dark roast is crafted from 100% premium Arabica beans and offers a balanced taste that's neither too strong nor too weak. Whether you're an experienced coffee drinker or just starting to explore new blends, this coffee is sure to please your palate.
One of the standout features of this coffee is its value. By purchasing in bulk, you'll save money while enjoying a premium product. The 4-pound bag is enough to satisfy even the most avid coffee drinkers for some time. Plus, the beans are organic, making them a healthier option for your daily cup of joe.
However, it's worth noting that the packaging may vary and some reviews mention issues with roast consistency between batches. If you're particular about your coffee beans, it might be something to consider before purchasing. Nevertheless, with a high overall rating and numerous satisfied customers, Cameron's Coffee Organic Scandinavian Blend is worth trying if you're in search of a delicious and reasonably priced coffee option.
Buying Guide
When looking for the best Arabica coffee beans, there are several factors to consider to ensure you're getting the highest quality product. This buying guide will help you understand what to look for when purchasing Arabica coffee beans.
Origin
The origin of the coffee beans plays a crucial role in determining the flavour profiles. Different regions produce beans with unique characteristics, such as fruity, floral, or earthy notes. Look for single-origin beans from renowned coffee-producing countries like Ethiopia, Colombia, or Costa Rica.
Roast Date
Freshness is key when it comes to coffee beans. Check the roast date on the packaging to guarantee you're getting freshly roasted beans. Ideally, you should purchase beans within two to four weeks of the roast date.
**Tip:** Avoid buying beans with a "best before" or "sell by" date, as these do not provide information on when the beans were roasted.

Roast Level
The darkness of the roast greatly impacts the flavour of your coffee. Arabica beans are typically roasted light to medium, which helps preserve their delicate and complex flavour notes. Depending on your personal taste, choose a roast that suits your preferences:
**Light Roast:** Bright acidity, fruity and floral notes
**Medium Roast:** Balanced flavour, slightly caramelised sweetness, and moderate acidity

Bean Quality and Grading
High-quality Arabica beans are often graded by various factors, such as size, altitude, and processing method. Look for beans labelled as "Specialty Grade", "Grade A", or "AA", indicating superior quality.
**Altitude:** Beans grown at higher altitudes (above 1,200 metres) generally have a brighter acidity and more complex flavours.

Processing Method
The method used to process coffee beans can affect their taste and quality. Two common methods are:
**Wet (Washed):** Beans are soaked in water to remove the pulp, resulting in a cleaner and brighter flavour.
**Dry (Natural):** Beans are dried with the fruit still attached, giving them a heavier body and fruitier taste.

Choose a processing method that aligns with your preferred flavour profile.
By considering these factors, you'll be better equipped to find the best Arabica coffee beans, ensuring enjoyable and flavourful cups of coffee every time.
Frequently Asked Questions
Where to buy top Arabica beans?
You can purchase high-quality Arabica beans from reputable online retailers, local roasteries, and specialty coffee shops.
Keep an eye out for beans that are sourced from single-origin farms, as they often provide the best flavours and quality.
Additionally, look for beans with a fair trade or direct trade status, which ensures ethical practices in the production process.
Best medium roast Arabica?
Medium roast Arabica beans offer a balanced flavour and a bright, smooth taste. Some of the top options include Colombian Supremo, Ethiopian Yirgacheffe, and Guatemalan Antigua. As taste preferences vary, you may need to try several types to determine your favourite.
Top Arabica coffee-producing country?
Brazil is the largest producer of Arabica coffee beans globally. The country's climate and fertile soil create ideal conditions for growing high-quality beans.
Other top Arabica-producing countries include Colombia, Ethiopia, and Honduras. Each region provides unique flavours and notes based on its specific growing conditions.
Popular Arabica coffee brands?
Some popular Arabica coffee brands with excellent reputations are Counter Culture, Blue Bottle, Stumptown, and Intelligentsia.
These companies focus on sourcing high-quality beans and roasting them to perfection, providing you with an exceptional coffee experience.
Cafes using Arabica beans?
Many cafes and coffee houses use Arabica beans due to their renowned flavour profile. Look for independent, specialty cafes that pay special attention to their bean sourcing and brewing methods.
Often, these cafes will be transparent about the origins of their beans and roast levels to help inform your choice.
Finding Arabica beans nearby?
To locate Arabica beans nearby, start by visiting local coffee shops and specialty stores. You can also attend coffee festivals, tastings, or events in your area to get more information on local roasteries and suppliers.
Alternatively, check online for bean retailers that offer delivery services to your location.